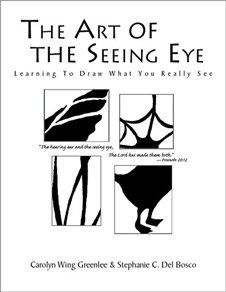 The Art of the Seeing EyeLearning To Draw What You Really See
By : Carolyn Wing Greenlee, Stephanie Del Bosco
$29.95

In Stock
The Art of the Seeing Eye by Carolyn Wing Greenlee & Stephanie Del Bosco
"The hearing ear and the seeing eye,
The Lord has made them both."
—Proverbs 20:12
Ten lessons with explanations, examples, exercises and evaluation instructions designed to encourage the Right Brain to see more accurately—to judge space and relationships, and to notice.
By art teachers Carolyn Wing Greenlee and Stephanie C. Del Bosco, who have successfully used these methods on students of all ages over the past thirty years.
Permission is given to photocopy exercises for use of the immediate family. Rates for Charter and Christian schools available on request.
| | |
| --- | --- |
| Weight | 16lbs |
| Format | 3-hole Punch Binder |
| Pages | 32 |
| Size | 8.5" x 11" |